Your your house is your abode. Your paradise. The place where you see your life through its thick and thin. Where you relax, have fun, enjoy, share your sorrows – and basically feel all the emotions under the canopy of the sky. And what if I tell you that you can make it a place that makes you smile as well? I know about some cheap wall decor ideas to make you smile.
So, here am I talking, writing my thoughts for you to lift your decor on a budget.
When it comes to decorating your wall which is dull and boring, there can be plenty of cheap decor ideas to choose from. I am listing a few, I know. You might want to tailor these ideas to your requirements, the kind of space you have, and the vibes you want to evoke.
10 Cheap Wall Decor Ideas
Wall decor is fun. You love the process of thinking, researching, buying and fixing your wall decor. Each time, and every time you do it. These 10 Amazing cheap wall decor ideas are here to help you out and make the wall decor process easy and fun!
1. Large Scale Art
Imagine coming back to your home exhausted after work, and entering your living room to see the art piece depicting the place you'd want to escape to? Surreal, right? Oversized art pieces or paintings grab attention right away and set the tone for a small place. For minimal space, you can search for something black and white or something vibrant to dominate the space and setting. A brilliant decor idea indeed!
2. Gallery Wall
A cluster of some photo frames will easily take you down memory lane. Pay homage to this and your memories by installing a gallery wall. When it comes to adding an exquisite charm and uplifting the personality of the space, this idea is your best friend.
3. Accent Wall
Adding statement pieces adds so much grace to a dull wall. You can use a bright and bold color to create an accent wall or add some patterns with wallpapers, stenciling, or decorative painting ideas. And what would totally steal the show is adding the same pattern on your ceiling. It creates a sense of inclusion. Even in a limited space, these decorative accents will have a huge impact. 
4. Showcase Fabric
Adding a fabric like a tapestry or a wall hanging can enhance the overall texture and pattern of the space so much. It is inspired and inherited from the styles and culture of Maraccesh. It adds a bohemian charm and creates a softer vibe. It's high time for you to check out the market for some latest styles that you can use. When it comes to moving your home, this option is preferable to framed pieces.
5. Mirror on the wall
To create the illusion of a bigger space, mirrors are the best. So you should go with this approach especially if you have a small-spaced home. It reflects lights and brightens up the area, so it's a great wall decor idea. You can try hanging an oversized mirror or use salon-style small pieces for display.
6. Paint a Mural
When you're set to create a mural, think of using a close-up of some natural element like a bird, an agate, or any design that adds depth to the room and creates an illusion to make it look bigger. This idea is one of the best on this list so it's a must one for your study room or your bedroom.
7. Install Shelves
Calling out all the bibliophiles! Install shelves to showcase your beloved paperbacks and hardbacks. This hack is perfect to improve the space in your home. You can install floating shelves to showcase your hardbacks, small sculptures here and there. These items make great conversation starters too.
8. Bring the Outdoor In
Going tropical in summer is all we ever want! Plants truly add life to any indoor space. To add a natural and organic touch to your space, install some plants around your walls. You can try hanging them as well instead of just letting them sit on the windowsill. Monstera's and Ferns make for great hanging plants.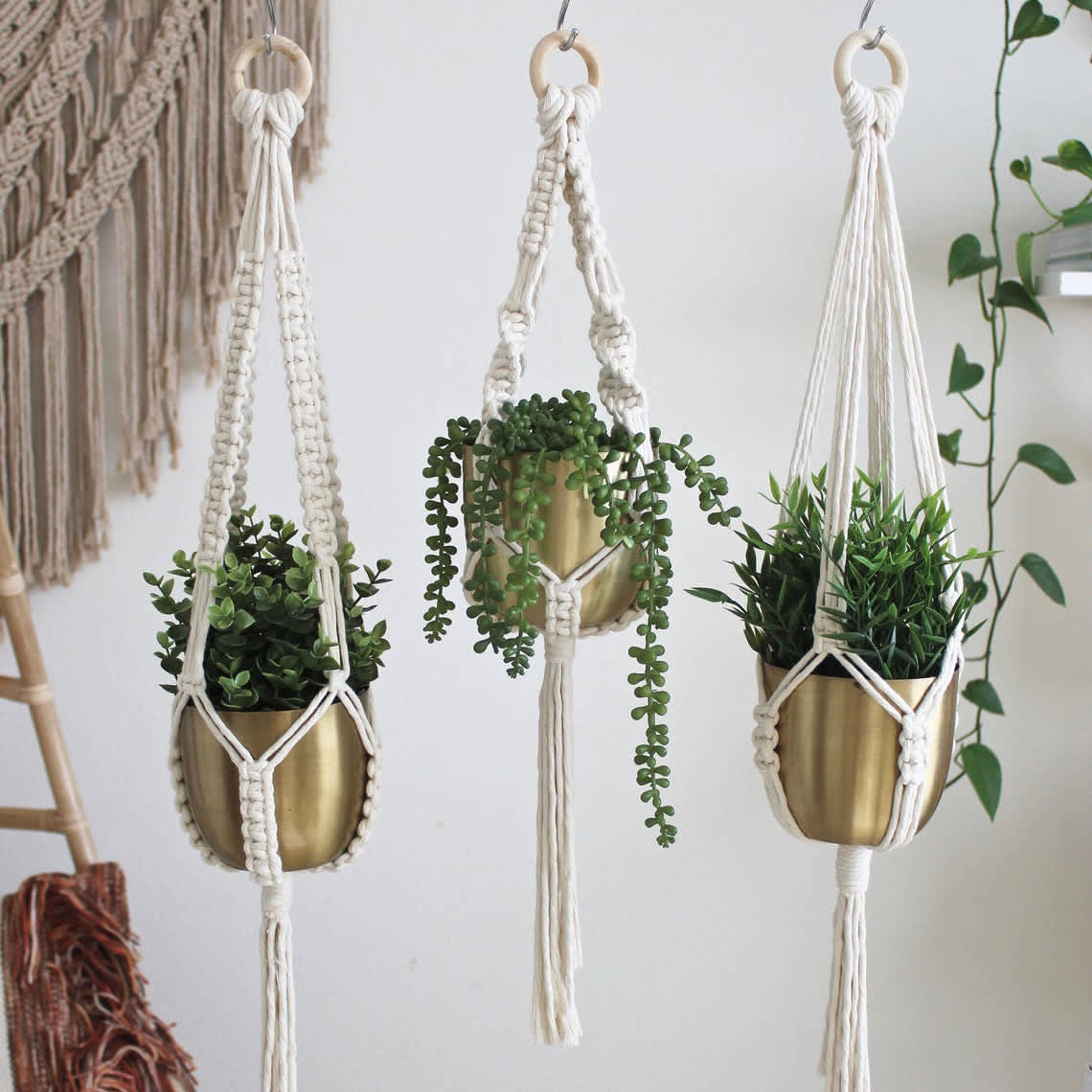 9. Basket Wall
Baskets are perfect to showcase the wanderlust inside of you. Wicker baskets have the potential to enhance a dull space and take you on a ride. You can translate the same on your walls! Whether you want to go colorful or neutral, this particular wall decor idea is aesthetic to the eye. So liven up your walls by using different sizes of baskets and colors.
10. Sculptural Sconces
Anyone who has experienced sitting under a harsh glare of a fluorescent bulb knows the difference that good lighting can make. Sculptural Scones are our final take on these wall decor ideas. Whether lamps or chandeliers, they are bound to add elegance, dimmers add romance, and scones enhance sophistication. Different lighting styles make a huge impact, whether you believe it or not. You can either go with a minimalist white look or a simple classic with brass or metallic accents. Whatever the design or material, scones are sure to add elegance to any space, and definitely a creative take on enhancing your space.
Are you ready to apply these 10 cheap decor ideas?
So, here were my 2 cents on creating an inviting room with some simple cheap decor ideas. You can also explore some great handmade decor items from Kashmir such as handmade rugs and carpets, chain stitch wall hangings, and some amazing paper mache items. Below is a list of some exclusive pieces to choose from as well.
Read Similar Blogs:
Mir Saeid is the Growth Hacker of Kashmirica, a brand that is poised to 'Bring Exclusives from Kashmir to You'. An enthusiastic cultural entrepreneur, he is driven by a passion to bring about a social impact. He has a Masters in International Business from the University of Bedfordshire and has worked in leading Marketing positions at various SMEs and Startups for 8+ years.
Intrigued by the crafts of his birthplace,  he decided to bring the art on the Global Connoisseur through the internet. A polyglot who speaks English, Arabic, Urdu & Koshur, Mir loves traveling, reading, writing, and spending time on the cricket field – a passion rekindled just recently.