Originally, when Canada became a nation in 1867, the then prime minister Sir John A. MacDonald addressed Cricket as a national sport! That's incredible. You must be wondering that you haven't seen any real cricket in Canada, or rather from their international team? How could it be their national sport a couple of centuries ago?
As of today, cricket is not as prominent as it was then, but surely a niche with growth opportunities.
In the summer of 2018, Canada was in the spotlight for cricket as Toronto hosted a new tournament, a Twenty20 league. This opportunity gave scope for international exposure to Canadian players to be alongside some incredible players from around the world. This tournament acted as a medium to revive the spirit of cricket in the country.
Sports in Canada
Canada is a country that loves football, hockey, and baseball, among other sports, but also made the headlines in cricket with player selections ahead of its new International Cricket Council approved tournament, Global T20 Canada. This first tournament stirred up a frenzy with drafting players like Darren Sammy, Dwayne Bravo, Chris Gayle, Shahid Afridi, and Steve Smith.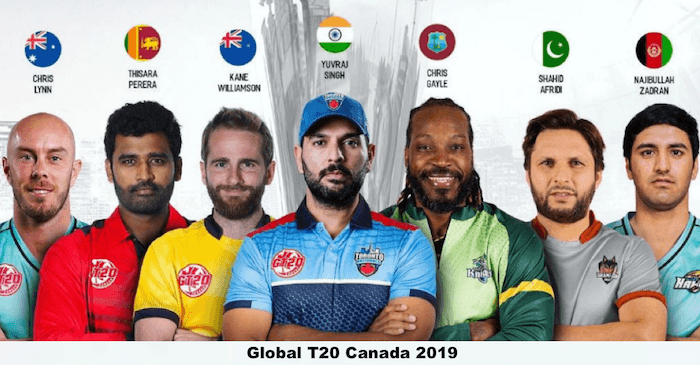 Although many Canadians were unaware of these names, the cricket community worldwide is well-informed about them. In June 2018, 6 teams featuring Canadian players had a face-off against each other in North America's first Twenty20 league, at Toronto's Maple Leaf Cricket Club.
History of Cricket in Canada
Many people don't know about the prominence that cricket once held in Canada. The first-ever game was played in North America in 1844, at St. George's Club in New York between Canada and the USA. According to Cricket Canada, "Cricket has been and is more famous in the regions of the town of York, now known as Toronto. During the early years of the [19th] century, the game was encouraged in the town by George A. Barber, a young English schoolmaster. He is considered to be the father of Canadian cricket."
As of today, the national team participates in ODIs but is not sanctioned to play test cricket yet. Unlike the former colonies of the British Empire, cricket did not become as major a sport in Canada. But it can be assured, that cricket culture is flourishing in the country today. The robust club system is expanding with over 15,000 registered cricketers.
Canada also had a strong women's team. The women's international team beat Brazil, Bermuda, the Cayman Islands, and Argentina at the ICC America's Twenty20 Women's Championship, 2012. The final match was won against the United States with a higher run rate. Toronto still has great opportunities and a fascination for cricket that people don't know about.
The Global G20 League in Canada
Jason Harper, Global League T20 director spoke to Culture Trip, bringing light to the inspiration behind bringing the tournament to Toronto, "The country is growing quickly. Look at the demographics of the Ontario region. Take the Greater Toronto Area (GTA) as an example, a lot of folks are first, second, or third-generation immigrants that grew up playing, witnessing, or participating in the game in previous countries and some cases at the highest level.
Some of the best players are coming to Canada regularly now for the G20 event, and the tickets are selling like crazy. It means that the game is gaining momentum in the country. Cricket is not hard to sell game in Canada. There's a natural cricket fan base in the country. People wake up at 3 am to watch games happening in the rest of the world. Why not bring a tournament to their backyard so they can experience a global Twenty20 championship in person?"
The league not only aimed to convert cricket lovers but also sports enthusiasts. Harper said it would be great to have someone [who] has never seen a game, discover cricket through this tournament and make them feel passionate about it. When it came to the point of educating people about it, Harper said that only the people who love the game can do justice to the story, while educating people about it is also necessary. He also believed that an engaged cricket community will inspire more people, and the league acted as a conversation starter among many groups.
Thoughts of Locals About Cricket in Canada
Zohaib Ahmed is a local amateur cricketer who plays in North America's largest cricket league Toronto and District Cricket Association (TDCA), which was established back in 1920. The TDCA consists of over 1,200 players, over 100 men's and women's teams, in both adult and youth divisions. Ahmed believes that the scope of cricket growth in Canada depends on the awareness of people. He said so because many people still believe that cricket is like baseball!
Ahmed also acknowledged the fact that hype and media coverage are very important to increase the impact of franchise leagues such as Global T20. It had five teams from different cities, and the sixth team is the Cricket West Indies B team, consisting of players from the Caribbean. Ahmed said, that since a lot of players were coming, new crowds could be attracted arising new conversations around the sport.
The tournament also enjoyed the advantage of the energetic spirit of the city. Darren Sammy, the skipper of Toronto Nationals team T20, expressed his excitement to play in the metropolis. Torontonians love to catch up with local sports teams just as they love the city itself. Ahmed pointed out that Toronto Football Club was a great example of how any sport can blow up in this city since every person is a fan of this club. He was hopeful that Global T20 would do the same for them.
For audiences new to the sport, T20 is a great idea as it is fast-paced and power-packed. The team members looked forward to playing competitive cricket for three weeks and were willing to be mentally and technically tested. T20 was the right format for Canadians to catch up with cricket, considering the kind of sports already popular there.
Current State of Cricket in Canada
However, to see the real impact of anything new, you need to give it time. The same was with this tournament. The captain of the National Team, Nitish Kumar believed that a consistent effort of involving players and teams was required. And the status of current cricket will determine how it will play internationally. Everyone believed in the change that this tournament was sure to bring to Canada.
Global T20's long-term objectives included becoming a stepping stone for Canadian players so that they can perform better to get contracts with other tournaments such as Caribbean Premier League or the Indian Premier League. And also helping the National Team to get back into the World Cup, which would prove valuable in the long run. The players looked forward to this league and the impact it was going to bring. It was a stepping step for them to make it to the World Cup and give them overall exposure to international cricket standards. 
More Local Cricket
A sport is not developed just by watching others play it. Rather, people should start playing it. Canada needs more academies teaching cricket, as well as more players signing up for local teams. Grassroots level cricket should grow and that is what will help cricket to grow in Canada. It is upon the Cricket lovers in general and the sporting administration, in particular, to make sure that more people are involved in the sport and enjoying every bit of it.
If you wish to buy some excellent Made in Kashmir Bats, you are at the perfect place. We have top-quality tennis cricket bats and Kashmir Willow bats made under the guidance of a veteran cricketer in stock.
Also Read:
How to Knock In a Cricket Bat? – The Complete Guide
Kashmir Willow Vs English Willow: Which Bat to Buy?
–
Mir Saeid is the Growth Hacker of Kashmirica, a brand that is poised to 'Bring Exclusives from Kashmir to You'. An enthusiastic cultural entrepreneur, he is driven by a passion to bring about a social impact. He has a Masters in International Business from the University of Bedfordshire and has worked in leading Marketing positions at various SMEs and Startups for 8+ years.
Intrigued by the crafts of his birthplace,  he decided to bring the art on the Global Connoisseur through the internet. A polyglot who speaks English, Arabic, Urdu & Koshur, Mir loves traveling, reading, writing, and spending time on the cricket field – a passion rekindled just recently.