Dry fruits are considered delicacies but they also come with medicinal properties. They complement both your taste and health. Children who tend to avoid fresh fruits, love eating dry fruits. To give your breakfast cereal or oatmeal a healthier spin, you can use dry fruits as a topping.
Dry fruits are small and can easily be carried anywhere and eaten anytime to give you quick energy and refreshment. An added benefit is that they are free of sugars, cholesterol, and sodium, serving as a perfect combination of healthy and tasty. 
Even though dry fruits are small in size, they contain lots of minerals and proteins. Every dietician or healthcare professional will advise you to inculcate a handful of dry fruits in your everyday routine. They come in a wide variety of cashews, pistachios, raisins, almonds, nuts, and so many more. I've compiled a list of some dry fruits that will add some nutritional goodness to your everyday food and give you health benefits as no other foods can.
Dry Fruits List Along-with Their Benefits 
Are you on the hunt for some low-calorie alternative to a high-calorie snack? Or maybe you're looking for a healthier alternative to give you a quick energy boost? If your answer is yes, dry fruits are your best friend. They are high in nutrition and provide you protein, minerals, vitamins, and fibers making for a delicious and healthy snack. 
They have a wide range of benefits and medicinal properties because of so many nutrients present in them. We'll discuss some dry fruits and their benefits and medicinal properties so that you can incorporate them into your everyday diet. This dry fruit list is all that you need to have in mind when you go on for shopping the next time.
1. Almonds
Due to their exceptional benefits, almonds are a favorite among many people. They are high in vitamin E, essential oils, and antioxidants and make for a perfect fit for children and adults alike. The best way to eat almonds is to soak them in water overnight, and eat them in the morning. They can also be consumed raw and roasted.
Health Benefits:
Promotes Heart Health
Aids in weight loss
Healthy hair and skin
Controls blood sugar levels
28g of almonds contains:
6g proteins
4g fiber
Vitamin E
Magnesium
Calcium
2. Pistachios
If you're someone who's always on the hunt for something to eat, pistachios are for you. It can make you feel fuller for a long time by resisting your appetite. Of many things, it contains antioxidants, copper, magnesium, calcium, manganese, potassium, and more. It is shaped like a heart and has anti-inflammatory properties as well. 
Health benefits:
Prevents diabetes
Reduces bad cholesterol
Boosts immunity
Helps to reduce weight
28g of serving pistachios contains:
5.72g proteins
3g fiber 
7.7g carbs
12.85g fat 
159 calories 
3. Cashews
Cashews are well-loved by both adults and children because of their rich and creamy taste. It is loaded with Vitamin E, B6, protein, and magnesium. It is shaped like a kidney and promotes heart health, reduces weight, and controls blood sugar.
Health benefits:
Reduces the risk of heart diseases
Reduces bad cholesterol
Aids in weight loss
28g serving of cashews contains:
5g protein 
1g fiber 
Iron (11% of daily value) 
Copper (67% of Daily Value) 
Carbs 9g 
Fats 12g 
157 Calories 
4. Apricots
Apricots are another dry fruit that will make you feel fuller and are loaded with the goodness of Vitamin E, A, magnesium, and copper. It's high in antioxidants and strengthens our immune system to fight internal infections. Apricots are small, orange in color, and taste like tarts. It is nutritionally dense and shields your heart, eyes, and overall health.
Health benefits:
Great for eyes
Promotes healthy bone and skin
Helps in weight loss
35g serving of Apricots contains:
 Proteins 0.49 grams
 Fiber 0.7 grams
 Energy 16.8 calories
 Vitamin A 33.6 mcg
 Beta-Carotene 383 mcg
 Carbohydrates 3.89 grams
 Fat 0.14 grams
5. Dates
Dates are tropical fruits available in both dry and wet varieties. Dry dates are high in fibers and keep you full for a longer time by suppressing your appetite. It's rich in iron and provides many benefits. Because of its texture and nutrition, it makes for an ideal fruit for winters. You can use them as a topping on your favorite dessert or eat them as it is. They are available in seeded and de-seeded varieties. 
Health benefits:
Helps to reduce weight
Increases hemoglobin levels
Boosts energy
Enhances gut health
7g Serving of Dates (1 Date)
Protein 0.2 grams
Fiber 0.6 grams
Sodium 0.14 mg
Carbohydrates 5.3 grams
20 calories
6. Hazelnuts
Hazelnuts are an indispensable part of this list. The hazelnuts produced by Corylus trees are rich in protein, fats, minerals, and vitamins. This combination of nutty and sweet flavor is eaten either raw, roasted, or as a grounded paste. It is also used in dairy products like chocolate, Nutella, or Granola.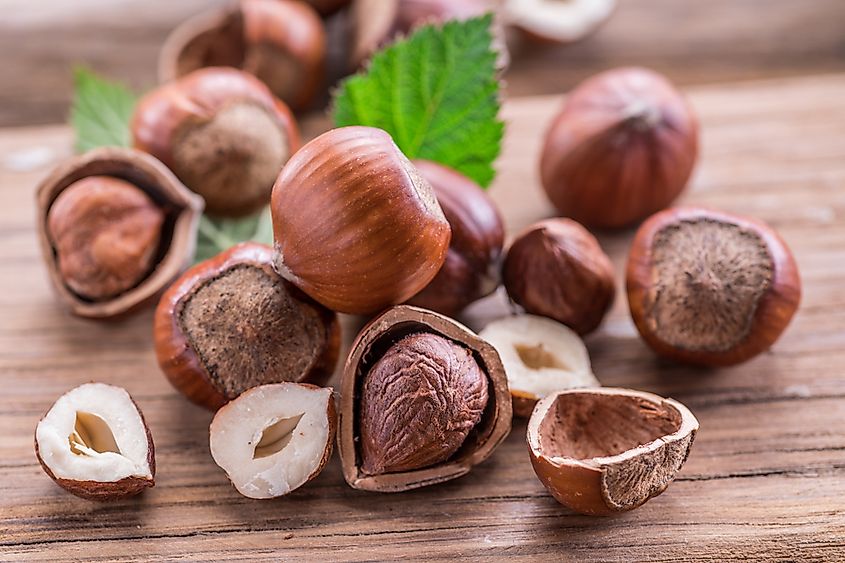 Health Benefits:
Helps in weight loss
Reduces cell damage
Lowers cholesterol
Improves insulin sensitivity
Promotes heart health
28g Serving of Hazelnut:
Protein 4.2g
Fiber 2.7g
Copper (24% of Daily Value)
Magnesium (12% of Daily Value)
Manganese (87% of Daily Value)
Vitamin E (21% of Daily Value)
Carbs 4.7g
Fat 17g
176 calories
7. Walnuts
Walnuts are single-seeded and hard-stone-like fruits that are rich in Omega-3 fatty acids, vitamins, antioxidants, minerals, and proteins. They're a must to incorporate into your daily diet for their nutritional value. Fatty acids present in walnuts will aid your weight loss journey.
Health Benefits:
Reduces stress
Prevents cancer
Healthy skin and hair
28g Serving of Walnut:
Protein 4.3 grams
Fiber 1.9 grams
Carbs 3.9 grams
Fat 18.5 grams
Sugar 0.7 grams
185 calories
8. Raisins
Raisins are nothing but dried grapes that taste both sweet and sour. They're a great source of iron and are known to help treat anemia. Just a handful of raisins can prove effective to improve your digestion and constipation problems if you have.
Health Benefits:
Promotes weight loss
Treats constipation and acidity
Treats anemia
28g Serving of Raisins:
Protein 0.5g
Fiber 0.6g
Sodium 3.6g
Carbohydrates 11g
Sugar 9.1g
42 calories
9. Prunes
Prunes have great nutritional value and health benefits. They are dried plums. Although they have high sugar content, they can still prove beneficial for your health in a number of ways. If you've got a sweet tooth, they are for you.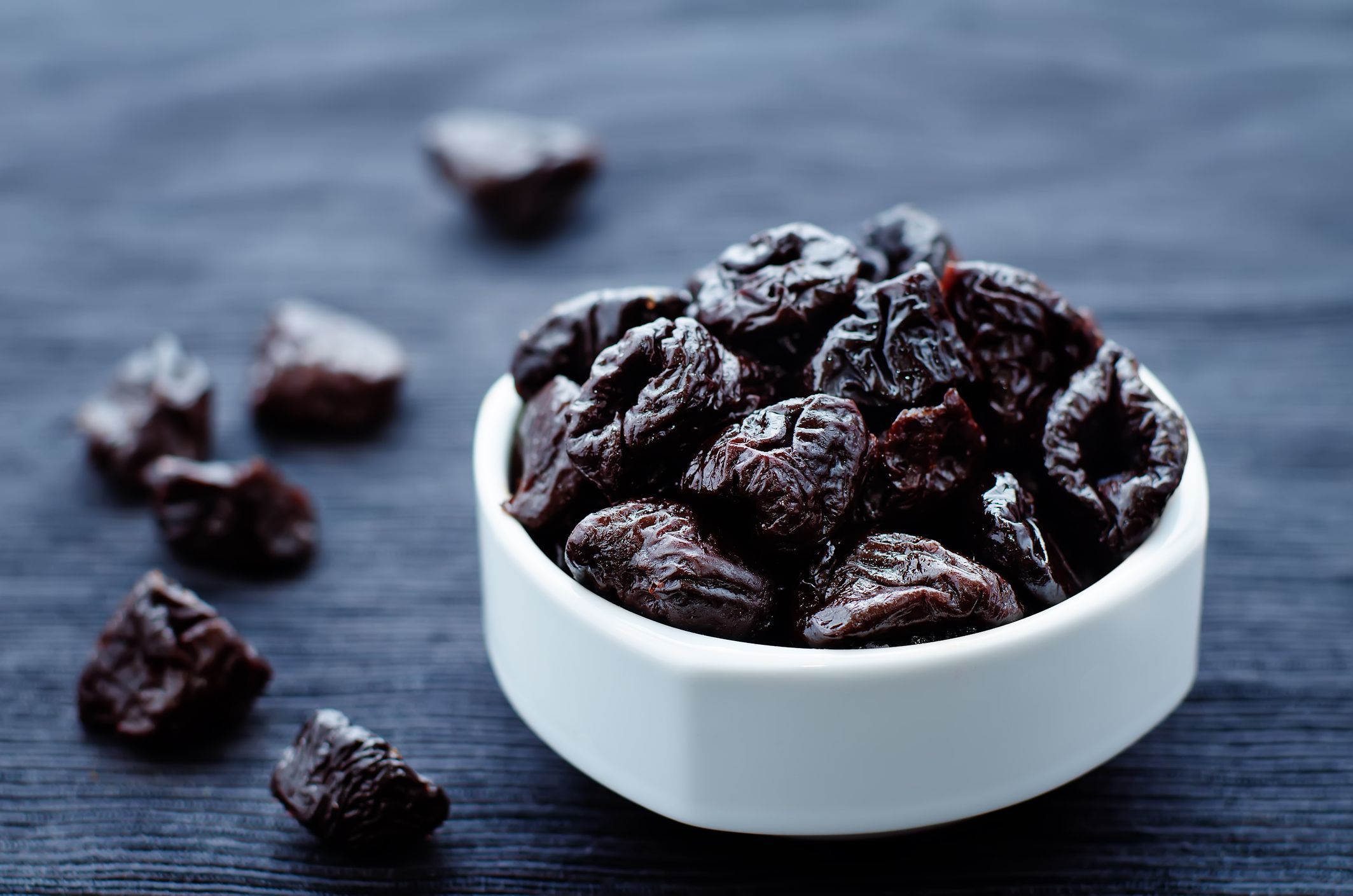 Health Benefits:
Good source of iron
Builds bones and muscles
Lowers cholesterol levels
Reduces blood pressure
28g Serving of Prunes:
Fiber 2g
Vitamin A (4% of Daily Value)
Vitamin K (21% of Daily Value)
Vitamin B2/B3/B6 (3% of Daily Value)
Carbs 18g
Sugars 11g
67 Calories
10. Dry Figs
Figs are true of a kind fruit and are covered with edible skin in green or purple color and contain many tiny seeds inside. Figs are proven to aid people in improving their reproductive and respiratory-related problems. Their skin is mild and sweet in taste, and high in nutrients.
Health Benefits:
Improves bone health
Ward off the growth of cancer cells
Controls blood pressure
Aids in weight loss
100g Serving of Dried Figs
Protein 3.3g
Dietary Fiber 9.8g
Iron 2.03 mg
Magnesium 68 mg
Calcium 162 mg
Vitamin C 1.2 mg
Beta-Carotene 6 mcg
249 calories
Frequently Asked Questions on Dry Fruits
If you have any questions surrounding the health benefits of dry fruits, we've curated a list of some Q and A for you.
How many dry fruits to consume in a day? 
To get the best out of each, you can consume 5-6 pieces of each per day. Consuming fruits in this way will give you all the essential nutrients. 
What are the benefits of dry fruits?
Which dry fruit is proven best to reduce weight? 
You can consider consuming dates, walnuts, hazelnuts, raisins, apricots, and prunes daily in moderate amounts to speed up your weight loss journey. 
Which dry fruit is best to improve weight gain? 
Dry fruits like cashews, sunflower and pumpkin seeds, almonds, and pecans are best when it comes to increasing weight.
How to consume figs? 
You can either combine figs with almonds at night and soak them in 1/2 cup of water and eat it on an empty stomach the next morning. 
Which dry fruit is the best to improve hair health? 
Dry fruits like almonds and walnuts are loaded with vitamins, protein, and iron which strengthen hair from the roots and prevent hair damage and loss. When consumed regularly, figs and dates are high in iron and aid hair growth.
Which dry fruit is the best to improve skin health? 
Dry Figs contain minerals like iron, magnesium, calcium, vitamin B6 and K which encourage glowing and healthy skin. They also reduce sebum production and prevent epidermal water loss making it a super-food for people with oily skin. 
Which dry fruits are the best for pregnant women?
Is it okay to consume dry fruits at night? 
The best time to consume dry fruits is early morning after soaking them in water overnight. They make a healthy alternative for junk food, but it's advised that you don't consume it at night.
Add From this Dry Fruits List to Your Daily Diet
Dried fruits are better options than fresh ones when it comes to their nutritional value and health benefits. They are nutritionally dense and high in dietary fiber, potassium, and phenolic compounds. They can lower severe health risks up to a great extent. So, do spare a part of your budget to add dry fruits to your diet.
You can choose from an exciting variety of Kashmiri Foods, Dry Fruits and Spices below. It also has the most amazing dry fruits list to buy from 🙂
Mir Saeid is the Growth Hacker of Kashmirica, a brand that is poised to 'Bring Exclusives from Kashmir to You'. An enthusiastic cultural entrepreneur, he is driven by a passion to bring about a social impact. He has a Masters in International Business from the University of Bedfordshire and has worked in leading Marketing positions at various SMEs and Startups for 8+ years.
Intrigued by the crafts of his birthplace,  he decided to bring the art on the Global Connoisseur through the internet. A polyglot who speaks English, Arabic, Urdu & Koshur, Mir loves traveling, reading, writing, and spending time on the cricket field – a passion rekindled just recently.