One of the many skincare tools that are around and hyped in the market are face rollers, which I'm sure that if you're someone who is skin-conscious, you're probably eyeing to buy one.
Ever since the tool has been around, people have been more curious than ever. And if you're someone who's looking for a wholesome guide that will give you all the understanding of this miraculous tool, you're at the right place!
Read on to know what is a face-roller and how it can benefit your skin. I'm going to talk about some great things, most of which are largely 'unknown'.
What is a Face-roller?
Face-rollers have been around for much longer than you can imagine. It's only that it has made it to popular culture now.
Just like the Gua Sha, the face-roller technique comes from China where it was used traditionally by wealthy women. It is a handy facial tool that has two rollers on either end made up of semi-precious stones like Jade or Amethyst.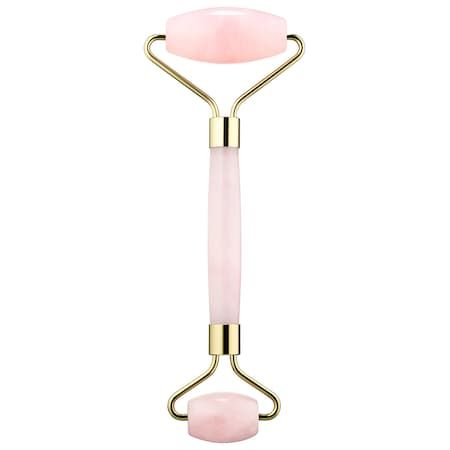 Because of the high demand of face rollers today, they come in an array of choices of stones and sizes. The mini-roller is smaller in size and has only one roller. It is more affordable compared to dual-ended ones and is travel friendly. It is designed in a way so that it can efficiently target the area around the eyes and the mouth.
How can you benefit from using a face-roller?
The face roller needs to be used correct. If that is not done, you might get a lot of side effects. Using the face-roller with a good technique will prove beneficial for you because, it will:
1. Prevent your skin from premature aging
Face-rolling will tone your face, relax your muscles and increase skin elasticity over time. You will notice the reduced signs of aging and depuffing.
2. Renew the skin cells
When done the right way, the face rolling technique will give the same mark of goodness as facial massage. It will rejuvenate your skin and renew the skin cells.
3. Fight dark circles
Face rolling has a cooling effect on your skin which decreases the size of the blood vessels under your eye area, and helps get rid of the dark circles.
4. Boost blood circulation and collagen
It will improve the movement and circulation of blood around your face, and make it more bright and fresh. The face rolling technique will also increase the facial skin protein called collagen.
5. Help in faster absorption of skincare products
One of the best ways to use this product is to apply your serum and moisturizer first and then gently use the roller. You'll notice that it will help the products to absorb into your skin and give better results.
How does a Face-Roller work?
To know the best way of using the face-roller starts by first understanding its structure. The larger roller is meant for the entire face. And the smaller one is made for areas like around your eyes. These rollers are made up of semi-precious stones which have healing properties.
According to experts, when you roll this face-roller upon your skin, it exerts some pressure which stimulates blood and energy flow in your facial tissues. This undoubtedly increases blood flow, and also optimizes lymph movements. This ultimately leads to regeneration, repairing, and freshness.
How to choose a Face Roller that'll suit you best?
Just as your choice of skin care products depends on your skin type and requirement, so it is with the face-roller. There are different stones that serve different purposes.
1. Jade
The jade face-roller has cooling properties and reduces irritation and inflammation. It causes lymphatic drainage which reduces wrinkles and blemishes. So if that is your target, you ought to go with this one.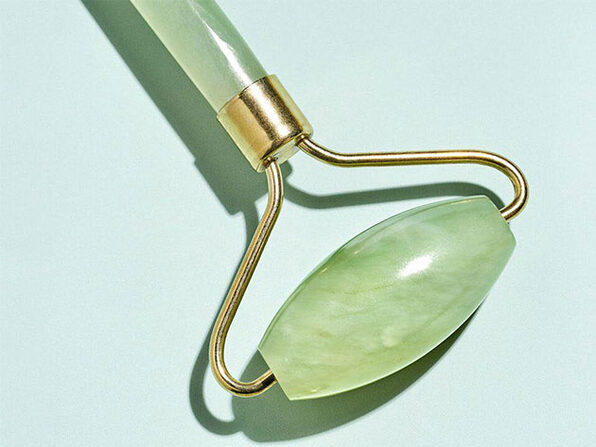 2. Rose Quartz
Rose quartz is associated with self-love and care. It represents younger and beautiful skin. It will help reduce your stress and negative energies. It softens fine lines by increasing cell turnover and heals your skin.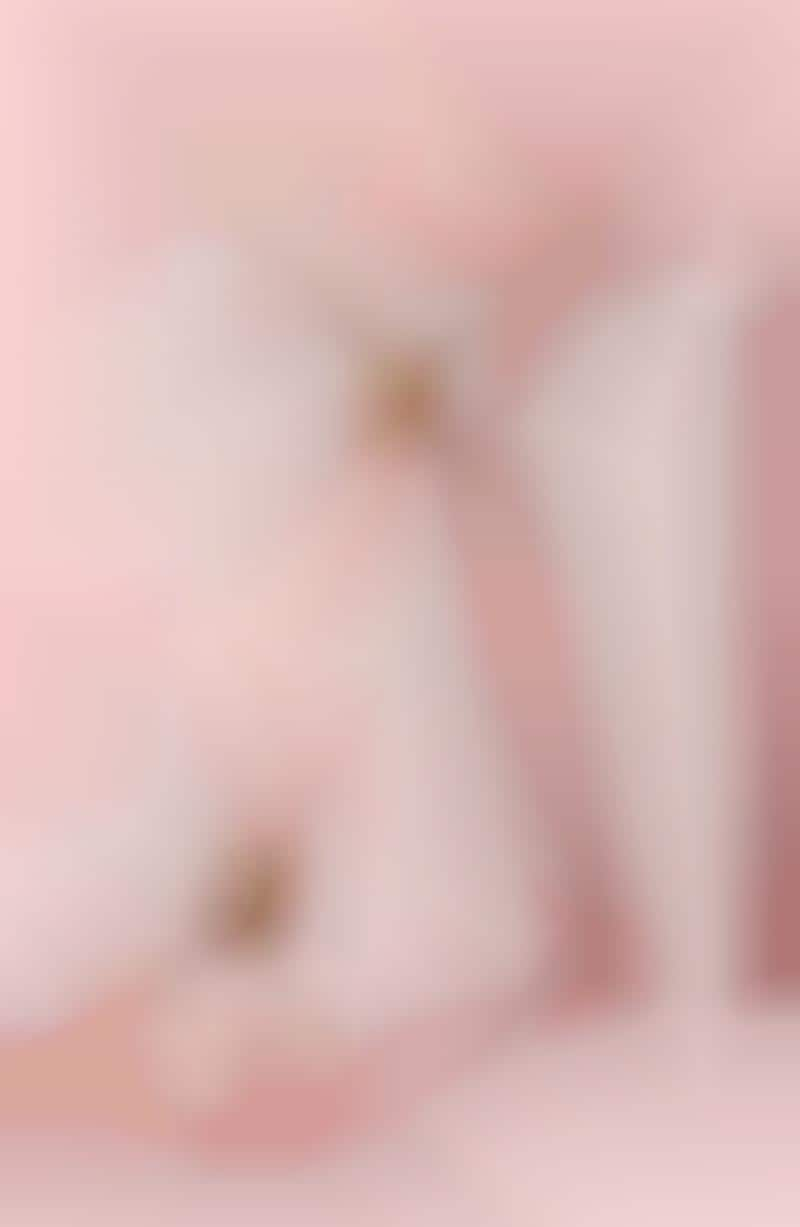 3. Amethyst
This crystal represents power and protection. So if you've got acne-prone skin, the Amethyst face roller is your bestie. It will reduce inflammation up to a great extent and tighten skin.
4. Obsidian
The obsidian stone represents balance. It has the elements of earth, fire, and water. It is great healing in nature and rejuvenates your skin on all levels.
How to use a facial roller?
To get the best results from a facial roller, use it in the manner mentioned below.
1. Firstly, prepare the tool for rolling by keeping it in the freezer for 2-3 hours. This will add additional cooling to your skin.
2. Clean your face before you begin. Make sure it is clean and rid of all dirt. Next, after drying your skin with a soft towel, apply some serum or moisturizer on your face for a greasy base. We recommend our natural creams for this.
3. Now, take your face-roller and place it behind, at the top of your neck and start rolling it in a vertical motion. Cover both the sides of your neck. Once you do this, place the face-roller in the front of your neck and roll it in a downwards motion from the jawline to the collarbones.
4. After doing this step, bring your face-roller to the middle of your face. Push it outwards, toward the sides, along your cheekbones. Cover the entire cheek area before you move on to your forehead.
5. Place your face-roller on your forehead and roll it downwards to your eyebrows. After repeating this a few times, but the roller between your eyebrows, and pull it horizontally towards the temples on either side.
6. With the help of the smaller side of your face-roller, roll gently between the outer and inner corners of your eyes.
7. Finally, wipe your face gently with a towel, and apply your moisturizer for hydration.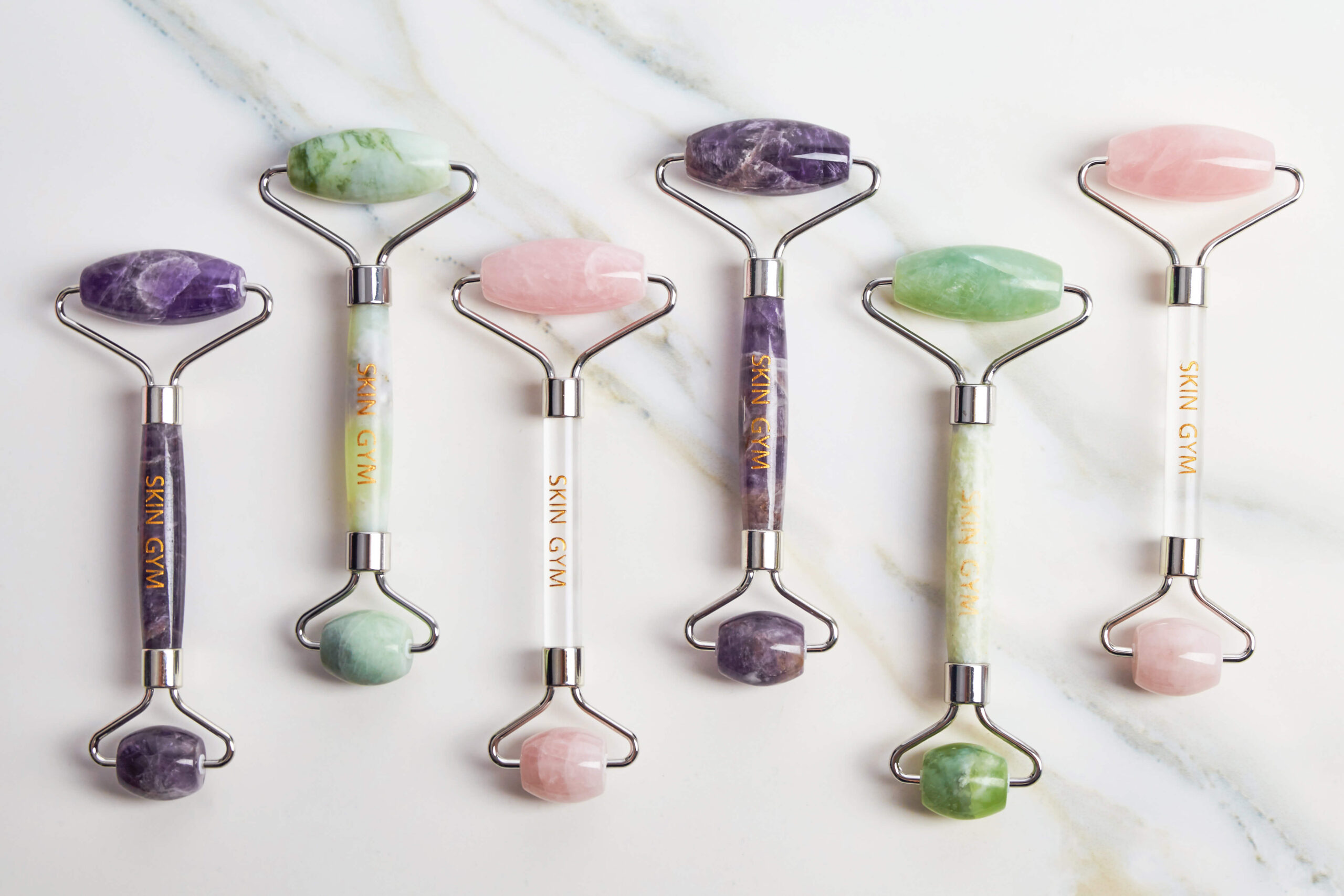 How often should you use a face roller?
We recommend you to use your face-rollers up to 3-4 times a week. You can also choose to use it on a daily basis. Just ensure to be consistent with your skincare routine as inconsistency will not be beneficial for you.
How to clean and store your face roller?
A tool that you have to use on your skin often needs to be clean otherwise it can lead to other skin problems like sudden breakouts and acne. Use a soft towel to wipe your face roller before each use. Even better, you can use a towel dipped in a mixture of cleanser and water and then use it to gently wipe the face roller. This will remove any bacteria on the tool.
Make sure that you don't use hot water because that can cause damage to the stone. Ensure also that your tool is completely dry before storing it in the box.
Get started with improving your skin tone with a face roller
Handling your face roller with care is really important as it is made up of semi-precious stones and is fragile. So you need to store it in a place where it cannot fall from or better still, keep it in the refrigerator to have an added cooling effect.
Buy the finest organic beauty products such as natural creams, natural scrubs, natural soaps, essential oils, carrier oils, and all similar organic skincare products from Kashmirica!
Read Other Blogs:
Buy top notch skincare products.
Mir Saeid is the Growth Hacker of Kashmirica, a brand that is poised to 'Bring Exclusives from Kashmir to You'. An enthusiastic cultural entrepreneur, he is driven by a passion to bring about a social impact. He has a Masters in International Business from the University of Bedfordshire and has worked in leading Marketing positions at various SMEs and Startups for 8+ years.
Intrigued by the crafts of his birthplace,  he decided to bring the art on the Global Connoisseur through the internet. A polyglot who speaks English, Arabic, Urdu & Koshur, Mir loves traveling, reading, writing, and spending time on the cricket field – a passion rekindled just recently.