Chances are you may have already spotted this new skincare tool in town! With a rising number of influencers, YouTubers, and skincare specialists using the Gua Sha stone, it's high time that you know what the hype is all about, right?
You are at the right place! This guide will give you an A-Z understanding of this miracle tool called Gua Sha. So keep reading if you are aiming to up your skincare game!
What is a Gua Sha Stone? 
Gua Sha stone is a skincare tool, which is flat and made of semi-precious stone which is used for the purpose of massaging and providing relaxation. Although it has only made contemporary trends now, it has been existing for a much longer time than you think.
Gua means stroking or pressing, and Sha means redness. Gua Sha is a Chinese traditional healing technique by scraping the face. The beliefs are that the redness that is caused by stroking the face, helps to heal the skin. Modern-day Gua Sha techniques are lesser intense though but are sure to give you a chiseled face with many other benefits.
How Can Your Skin Benefit from Gua Sha?
In my opinion, Gua Sha is a miraculous invention. Once you know how to use it, you will simply fall in love with it. Promise.
When used continually and in the right techniques, you can see numerous results that a Gua Sha brings to the fore, including: 
1. Deals with Cystic Acne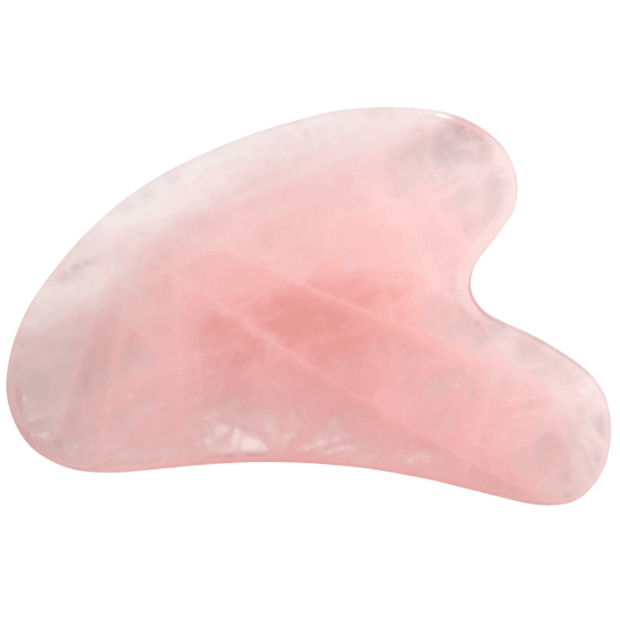 Many people tend to believe that Gua Sha shouldn't be used over acne. But that's just a myth. In fact, the tool helps to reduce acne by reducing flare-ups and improving blood circulation. However, it mustn't be used over damaged or barrier-broken skin. 
2. Lymphatic Drainage 
If your lymph system is slow, you will see puffiness, acne, fatigue, and swollen skin. It can only be improved by muscular movement and Gua Sha does that job pretty well. Using it regularly will improve your lymph system. 
3. Reduces Acne Scars 
Yes, you heard that right. There are a lot of products and serums in the market that makes the claim of reducing those stubborn acne scars. But the results are really poor. The Gua Sha in circulating blood renews skin cells which ultimately reduce scars. That's a better and hassle-free treatment for your acne scars.
4. Helps with Dark Circles and Pigmentation 
When blood circulation is good, you will automatically see results like a reduction in dark circles and pigmentation areas. Gua Sha when used right helps to reduce dark circles and pigmentation.
5. Reduces Puffiness 
The Gua Sha removes lymph and other fluids through stroking, hence giving relaxation to your face and leaving behind fresh and healthy skin free of puffiness.
6. Sculpts Jawline and Cheekbones
A defined and chiseled jawline is a dream, right? Stroking your Gua Sha tool in the right way and constantly will do that job perfectly well for you. As time passes, you will see the changes on your face as it will look more naturally sculpted.
7. Softens Wrinkles 
Relaxing your stiff muscles, reduces wrinkles and fine lines like a wonder. But using it consistently and properly is important to see these results.
How to Find Your Perfect Gua Sha?
Gua Shas come in a variety of shapes and materials and each has a different use. We've curated the perfect list for you to choose your Gua Sha!
You can choose the best fit of Gua Sha for your skin on the basis of two things:
On the basis of Material
On the basis of Shape
Varieties of Gus Sha on the basis of Material
1. Rose Quartz
The pretty pink of Gua Sha in rose quartz is the epitome of love, compassion, and emotions. If you need to smooth out fine lines and wrinkles, this is your best friend. It will also help you to get rid of toxins in your body.
2. Black Obsidian
This particular Gua Sha is made up of the earthly elements of fire, water, and earth which will help you to remove all the toxins in your body and get rid of negative emotions. It is responsible for strengthening facial muscles and leaves your skin feeling rejuvenating.
3. Jade
To promote lymphatic drainage and reduce puffiness, this is your go-to Gua Sha tool. This crystal gives resting to the existing imbalances in your body.
4. Amethyst
This crystal produces negative ions that will get rid of the negative energy and stress. A perfect tool to help you after a long and tiring day after work. It helps cool down the skin and in pore tightening.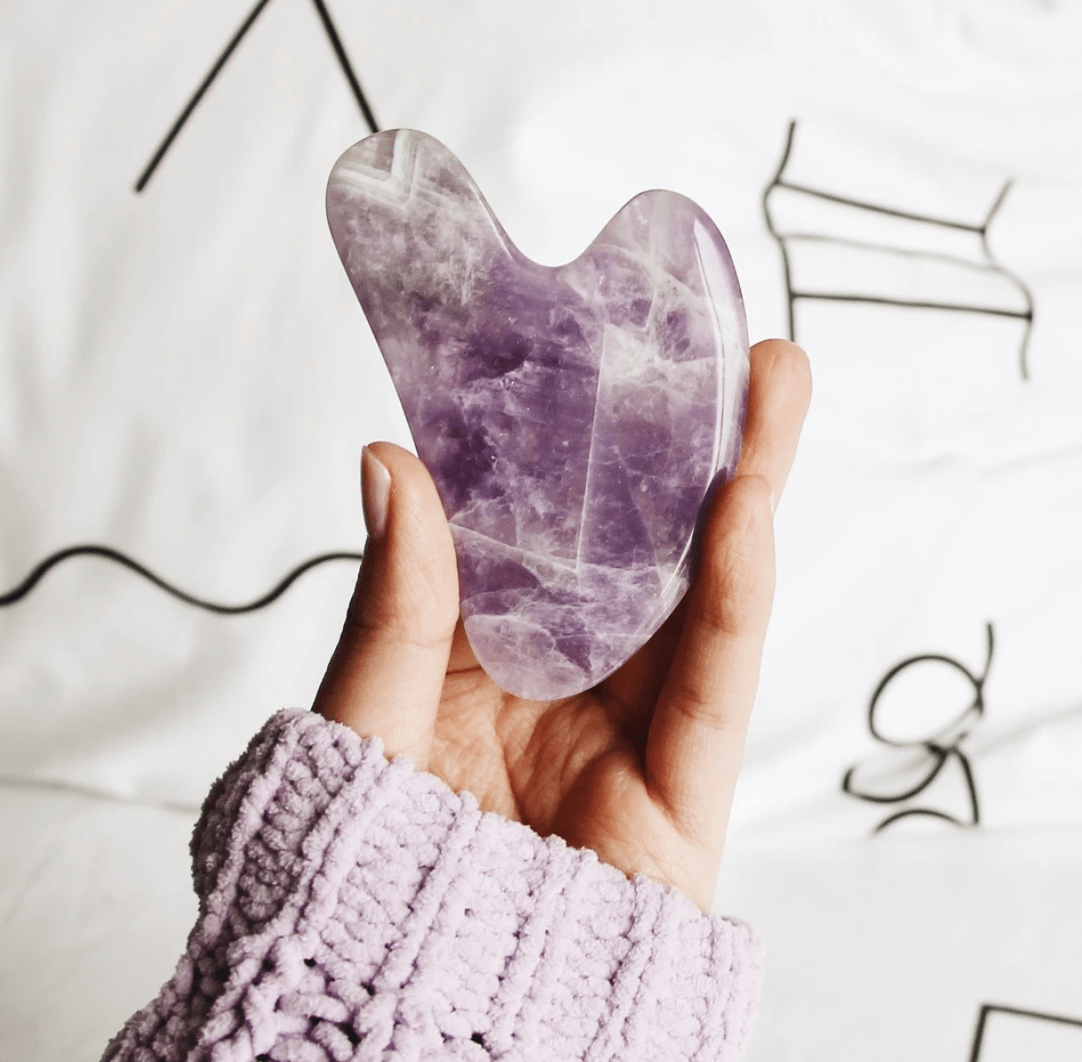 Varieties of Gua Sha on the Basis of Shape 
1. Concave Side
The concave side Gua Sha helps best to stroke on the larger areas of your body like the neck, shoulders, and spine. 
2. Double Curved Side
This Gua Sha shape will help you to reduce puffiness under the eyes and improve blood circulation around cheeks and cheekbones. 
3. Cleft
This one is used particularly for the jaw because of its smaller cleft. 
4. Teeth Edge
For your fine lines and wrinkles, you need this shape of Gua Sha. It is also used on the chin, cheeks, forehead, and temples. 
5. Pointed Convex Edge
To scoop your brows, keep them healthy and in shape, this is the perfect Gua Sha tool. 
What is the Right Way to Use your Gua Sha?
1. Prep your Gua Sha before starting the routine. Make sure to wipe it thoroughly yet gently before using it on your skin. You can also leave it in the refrigerator for a few hours before using it so that it cools your skin.
2. Your skin needs to feel a little slippery for the Gua Sha to stroke efficiently. So apply some facial oil, serum, or moisturizer before using the Gua Sha.
3. Use it in the right way. The curved side of the tool should hug the curves of your skin. And the flat side should rest on your skin.
4. Start by using the concave side of your tool by pressing it gently in an upwards motion from your neck to the jawline. Repeat this a few times and then do it on the other side of the neck. Do not put too much pressure here, just enough to relax your muscles.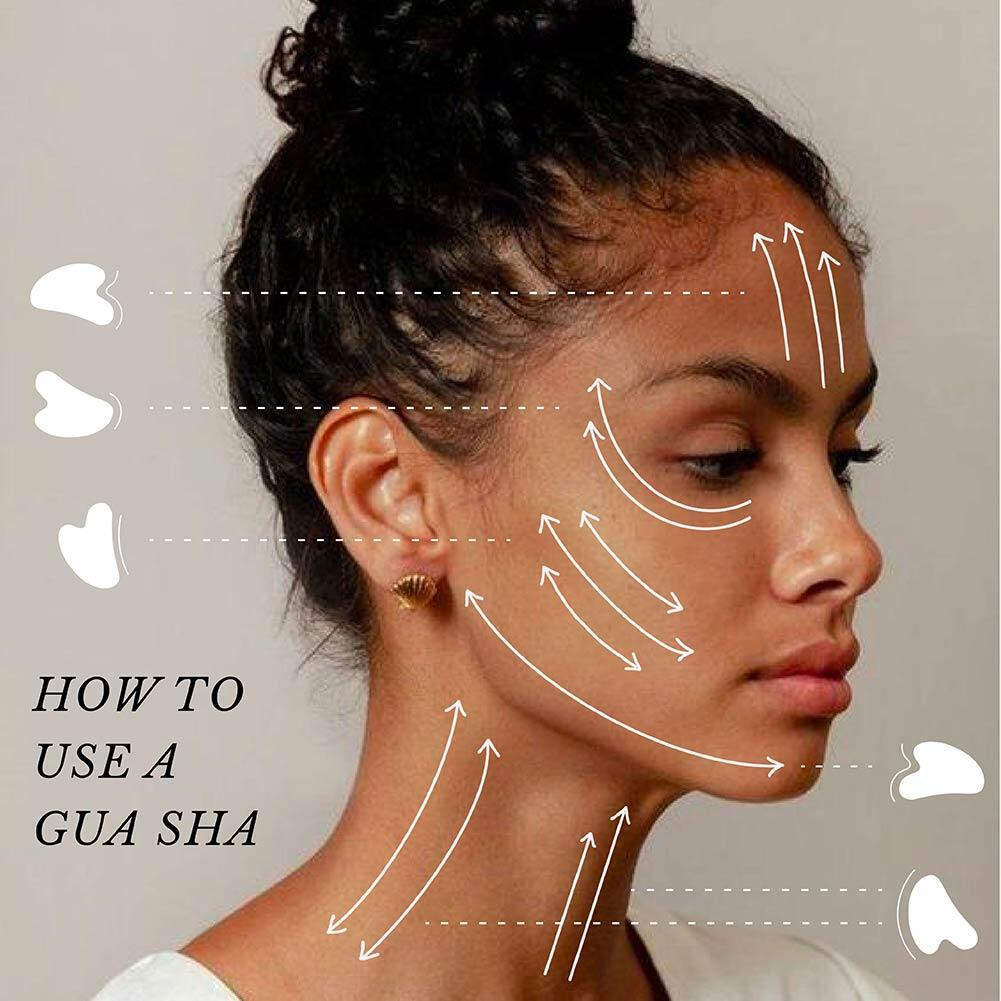 5. Now start scraping from the bottom of your skin using the cleft side of the tool. Scrape it all along your jawline, up to the ears. Repeat a few times and switch to the next side.
6. Take the flatter curve side and scrape it along your cheeks. Do this in the horizontal motion a couple of times and then repeat on the other side.
7. The small round end of your tool will now be used to massage under the eyes gently. Pull it towards your temples.
8. Now on your forehead, make sure that the largest curve is just above and gently pull it up towards your hairline.
9. Once you are done massaging all the areas of your face, you can go ahead and finish your skincare routine.
Should you use Gua Sha on serum or face oils?
When you're using the Gua Sha tool during the day, applying a serum is better as it has a lightweight formula. Oil will make your skin feel greasy or sticky. Nevertheless, apply whatever your skin is more comfortable with – may it be a serum, face oil, or moisturizer. You just need to have a moist base so that the Gua Sha can glide smoothly without causing any irritation.
1. If you have some active acne on your skin, you can use the Pulp Ex-Acne Anti Acne Serum which is the goodness of Sea Buckthorn and Elderflower.
2. If your skin is showing signs of aging or you are looking for some anti-aging product, use Deconstruct Retinol and Peptide Serum as a base for your Gua Sha routine.
3. Use Shankara Kumadi Oil if your skin is scarred, it will generously nourish and hydrate your face and reduce the scars over time when you use it with the Gua Sha.
4. If you have dry and dehydrated skin, use Swisse's Hyaluronic Serum which will give you quick and intense hydration with Senna plant extract, Jojoba, sweet almond oil.
5. If you need some serum for your night Gua Sha routine, use Martiderm's Night Renew Serum or the Night Face Elixir by Ras Luxury Oils. These active products will treat your skin overnight and also heal it.
Whichever product you consider using, make sure you use something that will moisten your skin. Don't use the Gua Sha on dry and dehydrated skin. 
How often should you use Gua Sha?
To see amazing and transformative results, it is recommended that you use the Gua Sha tool at least three times a week. You can either use it in the morning to prepare your skin for the day or use it at night after a long day of work to give you relaxation.
How to Store and Clean your Gua Sha?
A tool that you have to use on your skin often needs to be clean otherwise it can lead to other skin problems like sudden breakouts and acne. Use a soft towel to wipe your tool before each use. Even better, you can use a towel dipped in a mixture of cleanser and water and then use it to gently wipe the Gua Sha.
This will remove any bacteria on the tool. Make sure that you don't use hot water because that can cause damage to the stone. Ensure also that your tool is completely dry before storing it in the box.
Handling your Gua Sha with care is really important as it is made up of semi-precious stones and is fragile. So you need to store it in a place where it cannot fall from or better still, keep it in the refrigerator to have an added cooling effect. 
Buy the finest organic beauty products such as natural creams, natural scrubs, natural soaps, essential oils, carrier oils, and all similar organic skincare products from Kashmirica!
Buy top notch skincare products.
Mir Saeid is the Growth Hacker of Kashmirica, a brand that is poised to 'Bring Exclusives from Kashmir to You'. An enthusiastic cultural entrepreneur, he is driven by a passion to bring about a social impact. He has a Masters in International Business from the University of Bedfordshire and has worked in leading Marketing positions at various SMEs and Startups for 8+ years.
Intrigued by the crafts of his birthplace,  he decided to bring the art on the Global Connoisseur through the internet. A polyglot who speaks English, Arabic, Urdu & Koshur, Mir loves traveling, reading, writing, and spending time on the cricket field – a passion rekindled just recently.