Shilajit, a dark-colored resin-like substance forms as a result of the decomposition of plants and other organic matter on the rocks of the Himalayas for several hundred years. This resinous substance comes as a boon to mankind as it comes loaded with numerous health benefits.
Right from fighting the signs of ageing to improving strength, energy and vitality, this supplement can do wonders for the human body. Shilajit holds immense importance in Ayurveda and is believed to be the 'conqueror of weaknesses'.
This amazing substance contains fulvic acid, a strong antioxidant in abundance along with 80+ other important nutrients. This is why Shilajit is extremely sought after all across the world.
Well, you might already know about its incredible health benefits. But, did you ever wonder how this substance is obtained? Did you know that a strenuous process needs to be done before shilajit can actually be consumed?
In this article, we will take a look at how shilajit is actually obtained.
How is Shilajit obtained?
Shilajit, when it is found on the rocks of the mountains, contains several impurities. Hence, first it needs to be purified before it becomes safe to be consumed. There are a few methods that are used to purify shilajit. But here, we will take a look at the most common ones.
Method 1
Initially, the rocks on which Shilajit is found tend to contain humus, sand, gravel and bacteria and other microbes. This is how it is purified before it is sold to users for consumption.
The shilajit (intact on the rocks that it is found on) is first immersed in water in a huge vessel. It is kept immersed in water for about 2 days.
After about 2 days, the rock dissolves into a thick paste kind of thing.
Then, to this slurry, water is added again to make it thinner. After adding some water, this mixture is then heated.
After it has been heated, the next process involves filtering out the shilajit resin from its rocks.
This process of filtration is carried out using a sieve and the process is performed a few times to completely separate the shilajit resin from the rocks.
At the end of the filtration process what remains is a black colored liquid (shilajit) as the lumpy rocks get completely removed.
Then, milk is added to Shilajit and it is heated. Milk enhances its properties along with cooling it down and sweetening its taste.
As the final step, a decoction of triphala is added to this shilajit. Along with enhancing its properties, triphala also helps get rid of any impurities present in shilajit.
After triphala is added to shilajit, the mixture is heated again so that any water that is left gets removed from the mixture and what remains is pure shilajit.
With the water removed, the result is a thick dark-colored paste (resin) i.e. pure shilajit. 
The shilajit resin is then cooled down before storing it.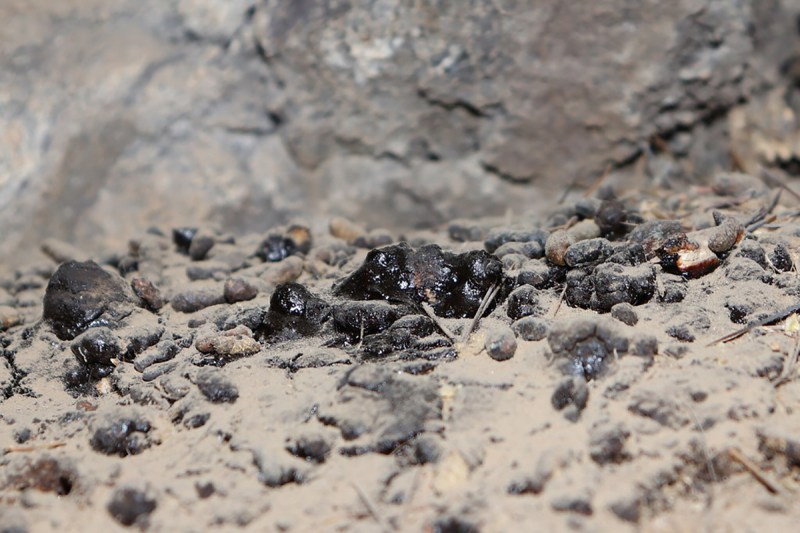 Method 2
As for the second method, directly triphala decoction is used for shilajit purification. This is how it works.
First, a decoction of triphala is made.
After the decoction has been made, the shilajit rocks are immersed in this decoction for about a day.
After a day, this mixture gets heated. Upon heating, the shilajit starts dissolving and floats on the surface of the decoction. This melted shilajit which collects at the top is then removed and added to another vessel.
This shilajit is then once again heated in order to thicken it. Once it thickens, the heat is removed and the shilajit is left to dry.
This is yet another method that results in pure shilajit.
In some methods, the use of cow's urine is also made. Also, often at times, only water is used to purify shilajit. While there are several methods that are used for purifying shilajit, using triphala decoction is the most common one. It is the best way to remove any impurities from the shilajit and obtain the resin in its purest form.
Next time you buy Shiljit, you know what you are buying
Thus, to obtain shilajit, a lengthy process needs to be performed. Hence, when you buy shilajit next time make sure to know where it comes from and how it has been purified or obtained. 
Read More Blogs:
Hop onto our store to buy awesome kashmiri foods and dry fruits from our online store
Mir Saeid is the Growth Hacker of Kashmirica, a brand that is poised to 'Bring Exclusives from Kashmir to You'. An enthusiastic cultural entrepreneur, he is driven by a passion to bring about a social impact. He has a Masters in International Business from the University of Bedfordshire and has worked in leading Marketing positions at various SMEs and Startups for 8+ years.
Intrigued by the crafts of his birthplace,  he decided to bring the art on the Global Connoisseur through the internet. A polyglot who speaks English, Arabic, Urdu & Koshur, Mir loves traveling, reading, writing, and spending time on the cricket field – a passion rekindled just recently.