I just thought of blogging about the street foods of Kashmir. It was not out of a blue that I decided to blog about Kashmiri street foods. The tale goes like this.
I was sitting at one of the prime locations of Srinagar, that is the Hazratbal area which is known for a historical mosque. The mosque is said to be housing the holy relic of Prophet Muhammad (Peace be upon him), but there is little evidence to prove its truth. I say, it is more of a folklore than anything else.
The beauty of the Hazratbal area attracts a multitude of tourists everyday. It is situated on the banks of Dal Lake, making it a perfect place for people who want to spend a quiet and serene evening. And it is a place o chill with your friends and family. It has beauty, spirituality and some amazing street food culture that you will enjoy, for sure.
As it's a place that is generally crowded, it also has a variety of Kashmiri street food available. You will also find Lebanese food, Mughlai foods, Wazwan, Italian foods and a lot of other typical Kashmiri foods that you can savior. Those dishes are also available across different places in the city and other districts of the valley.
Here's a list of 10 must-have foods on your next trip to Kashmir:
1. Monji Gaade
If you love seafood, especially fish, then this is something you're missing out on. It's a fish snack, in which the fish is first dipped in rice flour and besan, to which then is added salt and a little food color, and then deep-fried. It is a perfect snack for the fish lover in you!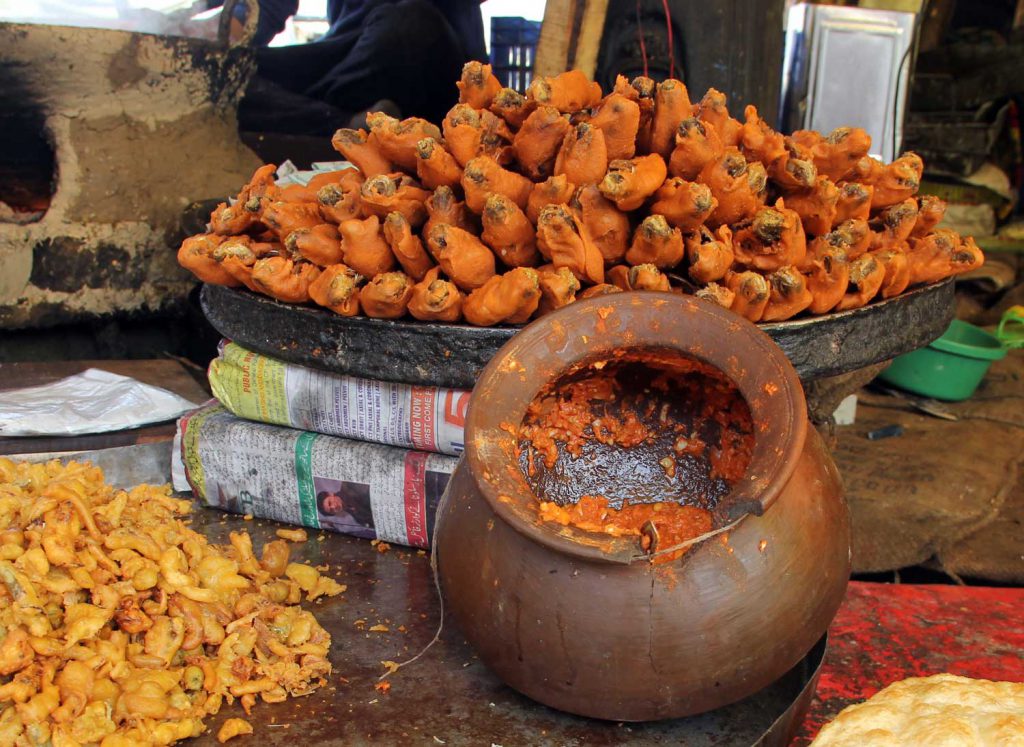 2. Halve-Parathe
This dish comprises two parts. The first one, Halwa, is made of Semolina or Suji. The second part is the Paratha which is made out of flour. What's special about this paratha is that it has a 3ft diameter! It's something that Kashmiris live to buy. It's a sweet delicacy, must be eaten hot, and definitely, a must try!
3. Laayeh
Laayeh is colored puffs, which are made out of rice, sugar, and some food color. As soon as you put it in your mouth, it melts right away leaving behind an ethereal sweet taste.
4. Khandh Gaziri
These delightful candies are made of flour dough and ghee, which are then dipped in sugar syrup. It's a traditional and crispy snack, that not only children but adults love too, and it gives out flavor as soon as you eat it.
5. Mongh Masalah
Mongh Masalah is the Kashmiri black steamed beans. The Black gram (Kala Mongh) is steamed with very basic ingredients like salt, and red chili powder then served hot. A simple dish that you can easily try at home for a quick snack.
6. Basrakh
Basrakh is another traditional sweet dish. It is made out of flour and ghee, then is baked and dipped into the sugar syrup. Dry fruits are then sprinkled over to enhance the taste of Basrakh.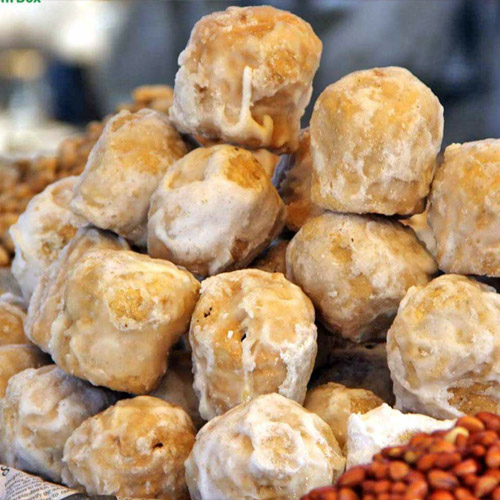 7. Lale Shangram
This food is as interesting as it sounds. It is a delicacy made out of flour, suji, and sugar and then deep-fried in ghee. It is crispy and rough on the outside, but it has a spongy texture as soon as you chew it.
8. Kaanak Masaal
All the health-conscious people, this one for you! It is free of fat, cholesterol, and oil (like a dream.) The preparation is simple. It involves boiling the wheat and beans till they become tender, then mixed with a few spices and served hot.
9. Nadir Monji
The main ingredient is the Lotus stem in this dish. The stem is dipped in rice flour and besan. Salt and other spices are added and then fried. The outer covering is very crispy, and when you eat it, it melts in your mouth leaving behind a taste that'll keep you craving for more.
10. Masaale Tchot
Masaal Tchot is the Kashmiri version of a wrap or taco. Channa that tastes like hummus and radish chutney are wrapped in a bread known as Lavasa. This is a filling dish, and will satisfy your hunger, but not the craving. 
Try these Street Foods Whenever You are in Kashmir
These were some of the most famous street foods of Kashmir. From my childhood, I have been munching on these street foods, on the banks of dal lake, on the slopes of Gulmarg and even in Pahalgam. If you decide to travel to Kashmir someday, you must try them out.
Also Read:
Why don't you try out some of the finest foods from Kashmir? Shop with us 🙂
Mir Saeid is the Growth Hacker of Kashmirica, a brand that is poised to 'Bring Exclusives from Kashmir to You'. An enthusiastic cultural entrepreneur, he is driven by a passion to bring about a social impact. He has a Masters in International Business from the University of Bedfordshire and has worked in leading Marketing positions at various SMEs and Startups for 8+ years.
Intrigued by the crafts of his birthplace,  he decided to bring the art on the Global Connoisseur through the internet. A polyglot who speaks English, Arabic, Urdu & Koshur, Mir loves traveling, reading, writing, and spending time on the cricket field – a passion rekindled just recently.